Last updated on
With the new tax year less than three months away, we at PayFit thought that it would be a good idea to highlight some of the important changes that are coming into effect.
① IR35
Due to the outbreak of coronavirus, the IR35 reforms, officially known as the Intermediaries Legislation, will now be implemented for the start of the 2021/22 tax year.
The decision was taken on Tuesday the 17th of March, 2020.
Perhaps the most crucial change that is being put in place; IR35 is being expanded to include companies in the private sector to try and tackle the problem of "disguised employees" or "deemed employment".
Previously, the IR35 reforms only affected the public sector; however, it's now being rolled out to include companies in the private sector that meet two or more of the following criteria.
Have an annual turnover of more than £10.2 million
Have a balance sheet total of more than £5.1 million
Have more than 50 employees
The changes mean that companies will have to decide the employment status of the contractors they use, and they will also be responsible for understanding whether someone falls inside or outside of the IR35 legislation.
To help support businesses, HMRC has released a test that will determine whether or not someone should be classed as employed or self-employed and, in turn, whether or not they lie inside of the IR35 regulations.
Once the test has been completed, a company will have to provide their determination and the reasons behind it to the worker and/or the organisation they're contracted to.
When the 2021/22 tax year kicks off on April the 6th, HMRC will have expected all companies to be fully prepared.
② Changes to Employment Allowance
From April the 6th of April, Employment Allowance (EA) will be increasing from £3,000 to £4,000. EA is also being reclassified as a type of state aid and will be limited to small employers. Businesses considered to be small employers are those whose NICs bill met the Class 1 NIC liability of less than £100,000 in the previous tax year.
To complicate these changes further, companies who are within a sector that can claim state aid will now have to ensure that any EA they claim does not take them over their state aid limit.
Because the EA counts towards the maximum aid that a company can receive over a rolling three-year period, they must ensure that they have the room to accommodate the £4,000 within their allowance in order to ensure that they do not lose their entitlement to it.
To receive the EA, employers will have to claim it each year. Relief will no longer be carried on from one tax year to the next, as has been the case under the previous rules.
While these changes were announced in the October 2018 Budget, they will be coming into force for the first time this year.
③ Parental Bereavement Leave
In April, Statutory Parental Bereavement Leave will come into place for parents who suffer the loss of a child under the age of 18 or experience a stillbirth after 24 weeks of pregnancy. While these changes were decided almost a year ago, they are only being implemented from the start of the 20/21 tax year.
Under the previous rules, parents were only entitled to two days' leave, as is consistent with all bereavement leave. The new rules will allow those affected two weeks' leave, with more flexibility to enable parents to take the leave up to 56 weeks after their loss.
The new rules will allow primary carers, adopters, foster parents and guardians, as well as other close relatives or family friends, who have taken responsibility for a child's care in the absence of parents, to the same leave entitlement.
Employees who have been employed by the same company for 26 continuous weeks will receive paid leave at the statutory rate, and they will not need to provide their employer with a death certificate.
④ National Minimum Wage
Strictly speaking, this is coming into force before the start of the tax year. Nevertheless, it's such a big one, so we thought it was important to add it to this article. From April the 1st, there will be an increase in the hourly rate for workers over the age of 25. The increase, from £8.21 to £8.72, will see workers benefit from a 6.2% rise in earnings, equating to almost £1,000 a year for full-time employees.
Younger workers will also see an increase in their National Minimum Wage (NMW), ranging from between 4.6% to 6.5%, as shown in the table below.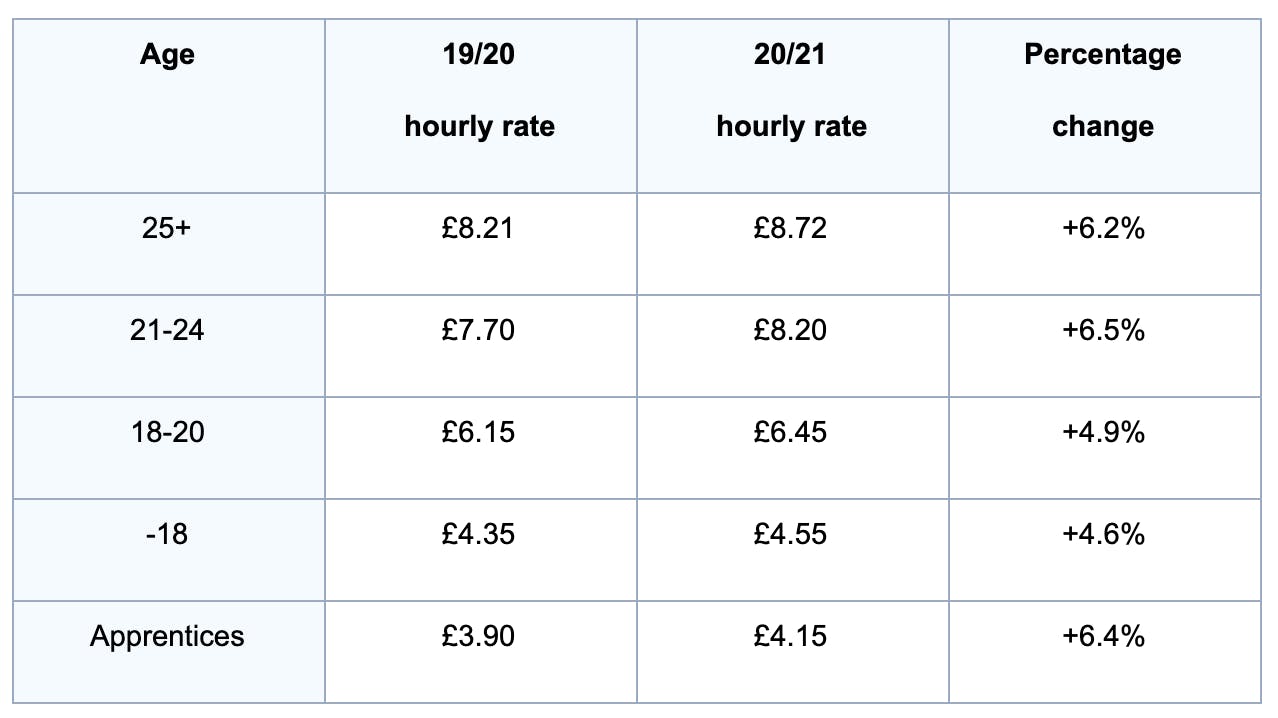 National Minimum and Living Wage rates 2020/21.
⑤ Changes to Statutory Parental Pay & Sickness Rates
The start of the 20/21 tax year will potentially see some important changes concerning statutory maternity, paternity and sickness rates.
Up until now, the statutory parental pay was £148.68. However, under the proposed rules, this may be increased to £151.20. The potential new rates will also include statutory parental bereavement pay.
Employers will be required to provide the Statutory Parental Pay or the equivalent of 90% of an employee's earnings, whichever is lower.
The rate of Statutory Sick Pay will also likely increase slightly, from £94.25 to £95.85.
⑥ Increase in employment rights
From the 6th of April, there will be a 2.5% increase in statutory redundancy pay, rising from £525 to £538.
The length of service will remain capped at 20 years, as will the regulations regarding redundancy entitlement.
However, due to the increase in the weekly rate, the maximum redundancy payment will be increasing from £15,750 to £16,140.
👉 PayFit & Compliance
We at PayFit are passionate about ensuring that all of our clients remain compliant with the latest rules and regulations outlined by HMRC.
Thanks to the automated nature of the app, we can guarantee all customers that their payroll is run smoothly, efficiently and accurately each month.
If you're interested in finding out more about how PayFit can help manage your payroll, why not book a demo with one of our product specialists today?
PayFit blog author