Last updated on
Introduction
The IR35 reforms, officially known as the Intermediaries Legislation, are finally due to be rolled out in the private sector for the start of the 2021/22 tax year. While the legislation has existed since 2000, it has previously only been enforced within the public sector. 
The reforms were initially planned for the start of the 2020/21 tax year; however, they were delayed due to the coronavirus crisis.
The implementation of IR35 promises to be one of the most extensive tax reforms in recent years and has caused a considerable amount of anger and confusion among businesses and employers.
A quick glossary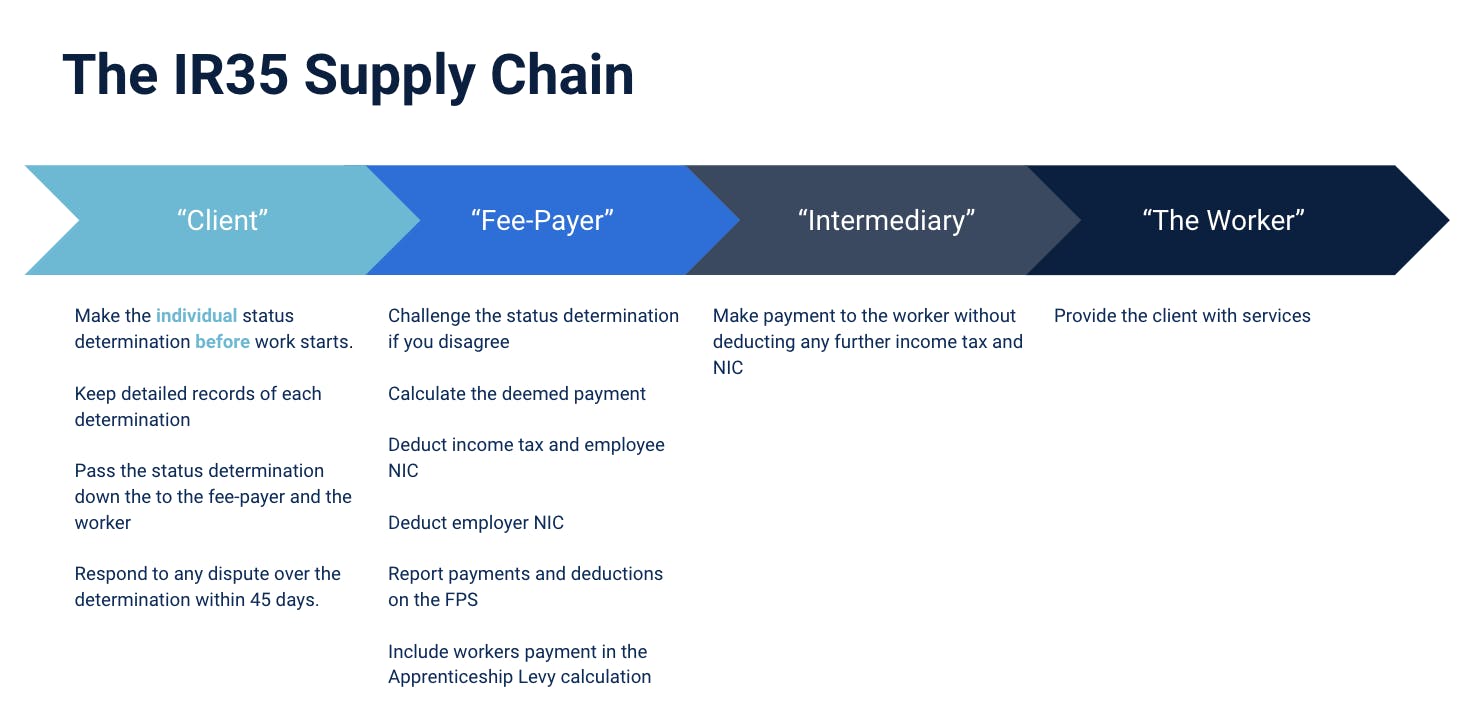 IR35 is notoriously complicated and, as a result, many people struggle to follow its supply chain. 
The above image helps explain how IR35 works and will form the basis for how we refer to the different entities throughout this article.
What is IR35?
IR35 was introduced to ensure that contractors operating through their own personal service companies (PSC), and carrying out work similar to that of a regular employee, paid roughly the same amount of tax and National Insurance (NI) as a regular employee.
In April 2017, due to non-compliance with the existing rules, reforms were made to the legislation. These changes made public sector bodies responsible for determining whether or not a contractor was operating inside or outside IR35. 
Under the changes, these bodies also became responsible for reporting and deducting tax and National Insurance contributions (NICs) from those who fell inside IR35. 
With these rules now expanding to companies within the private sector, employers will now also need to apply IR35 regulations and determine whether a worker falls inside IR35 regulations for tax and NIC purposes.
Clients will become responsible for deciding which of their intermediaries fall in or outside of IR35 legislation. Those that fall in will have their tax and NICs deducted from their direct payments through payroll rather than via a self-assessment. 
Before being postponed on 17 March last year, it was predicted that the reforms would help raise an additional £1.2 billion in revenue through income tax and NI collected through PAYE. 
Why is it being introduced?
In July 2019, HMRC estimated that only 10% of contractors who should be paying tax under the IR35 rules were doing so. 
Consequently, the main goal of expanding the legislation to the private sector is to combat non-compliance and ensure that contractors pay the right amount of income tax and National Insurance.
Who do the new rules apply to?
The new rules apply to medium and large employers who meet two of the following criteria:
have an annual turnover of more than £10.2 million;
have a balance sheet total of more than £5.1 million;
have more than 50 employees.
Employers who meet the criteria and who engage with contractors for intermediaries, e.g. PSCs, must apply IR35 legislation. 
Will workers inside IR35 rules be employees?
The short answer is, no. Workers inside IR35 legislation will have their tax and NI deducted via the payroll, just as an employee. However, unlike an employee, they will not be entitled to annual leave, statutory leave and pay.
What do employers need to do to prepare?
Employers will need to follow several simple steps to ensure that they are ready for the reforms. 
They will need to work out if the "medium or large business" criteria applies to them.
Establish if they are the "client" to determine whether they are responsible for the status determination of an engaged worker.
Identify the section of their workforce engaged through an intermediary such as a PSC.
Determine the employment status for these individuals if their contract extends beyond 5 April 2021. 
Let intermediaries know about upcoming changes that may impact them. 
Even if an employer is not a client, they will still have responsibilities under IR35. Fee-payers will be responsible for making the payment to the worker and will, as a result, have to deduct income and NI via payroll. 
Reviewing contracts
Employers will need to review contracts in place for work carried out from 6 April 2021. This will form part of the client's decision-making process when determining employment status. 
Information used in the status determination should match the expectations outlined in the workers' contract. 
So that employers ensure that they are complying with the IR35 legislation, and to prove to HMRC that their status determination is accurate, there should be no ambiguity between the worker contract and the Status Determination Statement (SDS).
Determining employment status
Determining an employment status will be the client's responsibility and must be done before a contract begins. 
Understanding and determining whether a worker sits in or outside of IR35 can be complex. It is also dependent on a variety of factors, including: 
if the worker supplies their own equipment;
whether they engage in work for other companies;
if they're entitled to sick pay, annual leave or holiday pay;
if there an obligation for the employer to provide work.
HMRC has released the Checking Employment Status Tool (CEST) to help those making the decision determine whether or not someone falls inside or outside of IR35. CEST is the only tool recognised by HMRC.
What to do with the status determination
Once completed, the client will have to provide their determination, and the reasons behind it, to the worker and the fee-payer in the SDS. Records, including the reasons behind the decision, must be kept. 
If disagreements occur between a client, worker or intermediary due to the determination, approved processes should be put in place to help find a resolution. Clients have a 45-day window to respond to a disagreement to a status determination. If a client does not respond within 45 days, they become the fee-payer.
Finally, if a client does not pass the SDS to the fee-payer, they will become the fee-payer if they are not already. 
Processing contractors inside IR35 on payroll
Once a client has made the employment status determination and passed it down the chain, it is up to the fee-payer to process the tax and NIC due on a worker's deemed payment via the payroll.
So how does this work?
First, the fee-payer needs to identify the amount that needs to be subject to tax and NIC. This is the deemed payment and is the sum of the total due to the worker excluding:
VAT;
costs for materials;
and expenses incurred that would be claimable if the worker were employed,
This figure is the amount on which tax and NIC (but no student loan) is due.
Reporting contractor information to HMRC
Reporting contractor information will form part of an employer's Real Time Information (RTI) process.
A new indicator will be added to the Full Payment Submission (FPS) to indicate if a worker is inside IR35 legislation. The FPS is to be reported to HMRC at the usual time, either on or before payday.
Need payroll support?
If you're struggling with your payroll or think that your processes can be further optimised, then why not book a demo with one of our product experts?
They will be able to talk you through the PayFit app and explain how we can help you save time when processing your monthly payroll.