Last updated on
In this post, we will run through the various measures companies can take to reduce the impact of coronavirus, and receive pointed insight from PayFit UK's Country Manager, Nick Miller.
The coronavirus pandemic has hit businesses across all sectors; however, its impact is being hardest felt by startups and small and medium enterprises (SMEs).
With many business concerned about the immediate and long-term future, key decision-makers are having to find ways to ensure that they can extend their runway, reduce costs and also maintain morale.
Prolonging the runway
The immediate focus for many startups and SMEs will be to work out how they can generate cash for their business and prolong their runway.
Runway is the amount of time a business has before it runs out of money. It is typically calculated by dividing the current cash position by the monthly burn rate.
There are various ways of doing this, but loans are a way of injecting funds into a business quickly. Whether it be in the form of director or shareholder loans and even bank loans, they are without a shadow of a doubt the quickest and easiest way of getting a company into a more financially secure position.
The word "uncertain" embodies the problems that companies, employers and employees are facing on a daily basis. This uncertainty means that investors are likely to act with caution on any future investments.
SMEs and startups are risky investments, which ultimately means that raising capital over the next few months may be harder than was initially foreseen.
For companies that were expecting to receive funding, then invoking an Advance Subscription Agreement (ASA) may be worthwhile.
An ASA essentially means that investors pay in advance for shares that will then be allocated at a later date.
The advantage for startups or SMEs in this position is that they are able to boost their cash flow by receiving the funding immediately.
What has the Government put in place?
The Coronavirus Business Interruption Loan Scheme is a temporary initiative that has been put in place by the British Business Bank. It launched on March 23rd, 2020 and will look to support small and medium-sized businesses to access bank and lending overdrafts.
The Government has already confirmed that it will provide lenders with a guarantee of 80% on each loan to give lenders confidence when providing finance to SMEs. There will be no charge for businesses or banks on this guarantee and the loans supported can be up to £5 million.
Companies are eligible if they are UK based, have a turnover no greater than £45 million per year and must meet the other British Business Bank eligibility criteria.
The Coronavirus Business Interruption Loan Scheme's rules and list of accredited lenders can be accessed on the British Business Bank's website.
Should businesses wish to get up and running on the loan as soon as possible, then it is recommended that they reach out to their bank or finance provider to discuss the business plan with them.
The Government website has more guidance for employers and businesses, including information relating cash grants for retail, hospitality, leisure businesses and support for larger firms.
On top of the Coronavirus Business Interruption Loan Scheme, the Government has also decided to defer Value Added Tax (VAT) payments for three months (20/03/2020 until 30/06/2020) for all UK businesses.
No application is required to access the Scheme, and businesses will not need to make a VAT payment throughout this period. Taxpayers will have until the end of the 2020/21 tax year to pay any liabilities that will have accumulated throughout the deferred period. The Government will continue to process any VAT refunds and claims, as is normal, during this time.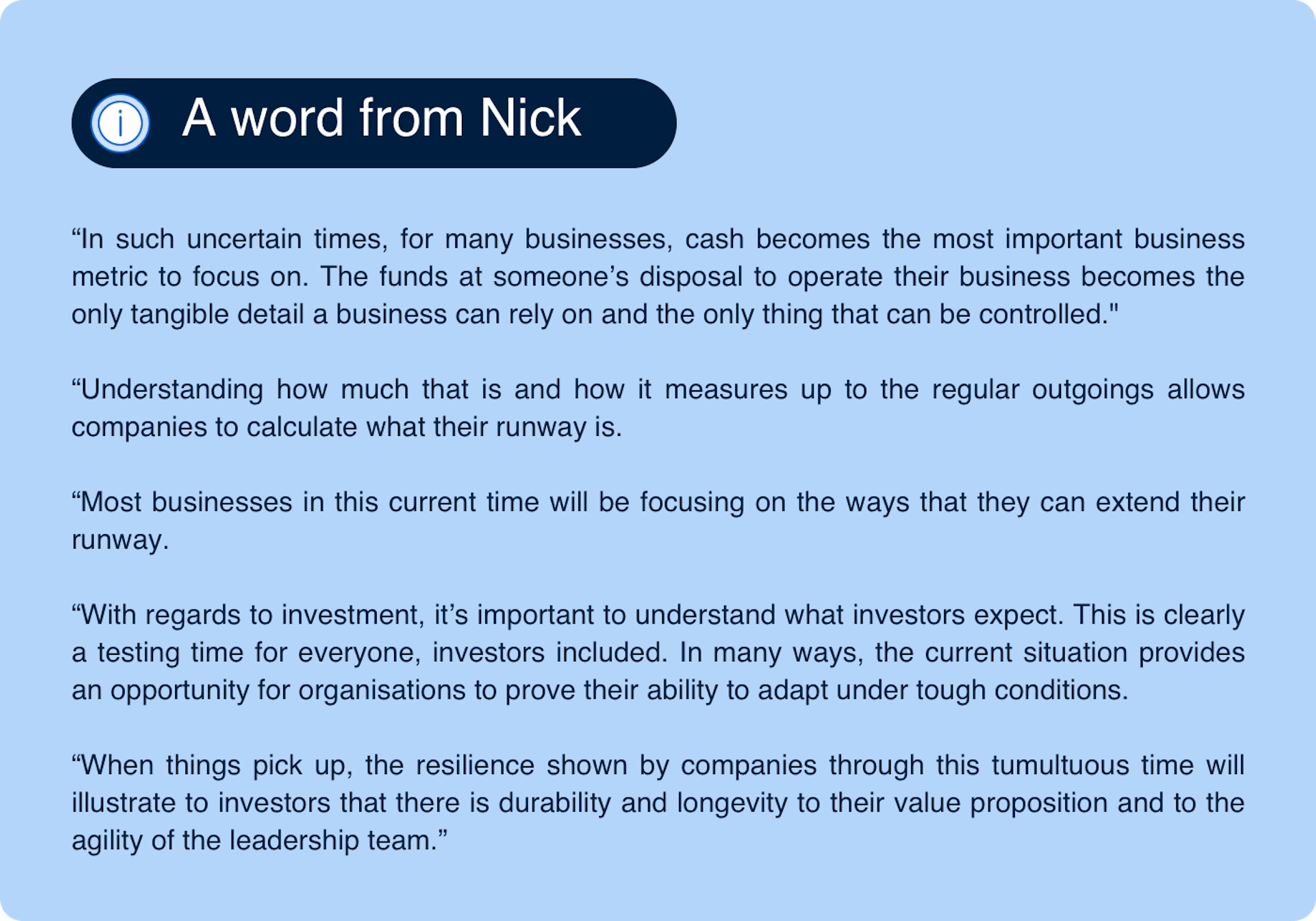 Short-term measures
Various short-term measures can be put in place to help businesses navigate through the current financial malaise.
An excellent place to start would be by doing three things - freezing costs; establishing which costs can be delayed; identifying what is expendable.
1. Freeze costs
2. Establish which costs can be delayed
3. Identify what is expendable
Everything should be revisited, including the terms on all contracts.
Because the current situation is unprecedented, all the terms that contracts were previously negotiated on have changed, and while some may be long term contracts, others may be able to be cancelled quickly.
During a challenging financial period or during uncertain times, it's crucial that organisations understand where they're spending money and what is and isn't essential to their business.
Rent, for example, has become something of a commodity. How long this period will go on for is anyone's guess.
While conservative estimates have said until the end of May, others have said that it could take up to six months for life to return to normal.
But what is normal in a post-coronavirus world? Will our working habits have been changed forever?
People are being forced to work from home; some businesses are doing well and realising that it is possible to produce results outside of the office. Does this mean that these companies will reconsider the way they manage offices?
Potentially. What is certain is that any rent being spent on offices that aren't being used now, and perhaps won't be used for the foreseeable future, have to be considered as a sunk cost - and a sizeable one at that.
Consequently, identifying whether or not a rental agreement can be ended may be a good thing to do. Clearly, when looking to do something like this, there are potential logistical issues to consider - e.g. will we be able to empty the office? Will we be able to find a new one when we need to? Is this a worthwhile measure beyond just the immediate-short-term?
Once again, it's important to appreciate and accept that these are unprecedented times, and the rulebook has been thrown out of the window.
What has the Government put in place?
The Coronavirus Job Retention Scheme has been designed to support employers whose operations have been severely affected by the coronavirus crisis. The Scheme will allow employers to keep employees on the payroll and keep their contract of employment in place.
The Scheme is temporary but is open to all UK employers for a period of at least eight months backdated to March 1st, 2020.
Up until the end of July, employers will be able to claim up to 80% of furloughed employees' usual monthly wage costs, up to the value of £2,500 per month, as well as employer National Insurance contributions (NICs) and minimum automatic enrolment employer pension contributions on the wage.
From August, the Scheme will change and employers will have to begin contributing the employer NICs and pension contributions. 
In September and October, employers will then be required to begin contributing to employee wages.
To furlough a worker, the employer must receive the agreement from the employee unless furloughing is already covered within the employment contract.
The furlough agreement should be in writing and should mention the date the furlough starts, when it will be reviewed, and how the employer and employee intend to maintain contact throughout the period.
A furloughed worker will remain employed during the furloughing period; however, they are not able to work.
By advising companies to furlough their employees rather than get rid of them altogether, the Government is hoping to minimise the number of unemployed workers over the next three to six months.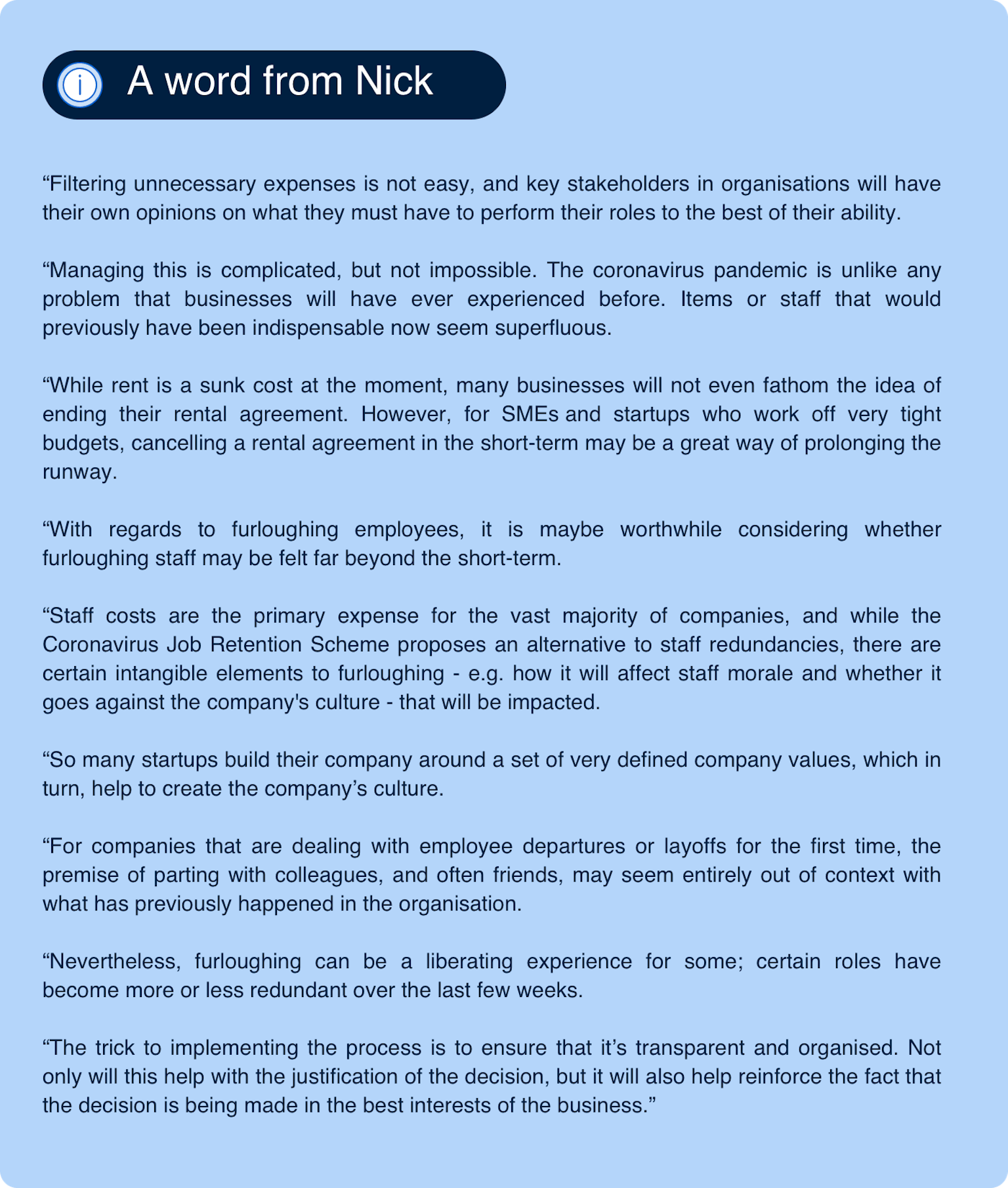 Crisis preparation and forecasting
A lot of the talk recently has focused on whether or not organisations could have been better prepared for an event of this magnitude.
The obvious answer is, of course, yes.
However, apart from in a handful of industries, the vast majority of organisations will be in some way negatively impacted by coronavirus.
Relativising the situation in that context means that the notion of forecasting for an event such as this would always have been complicated.
The current situation is evolving from day-to-day, which means that it's difficult to make any accurate predictions. Nonetheless, a company should always look at what it would have to do to break even in a worst-case scenario.
To do this, business leaders must appreciate what they can affect under their control. The current unknowns and unpredictability mean that trying to predict anything external is more or less futile.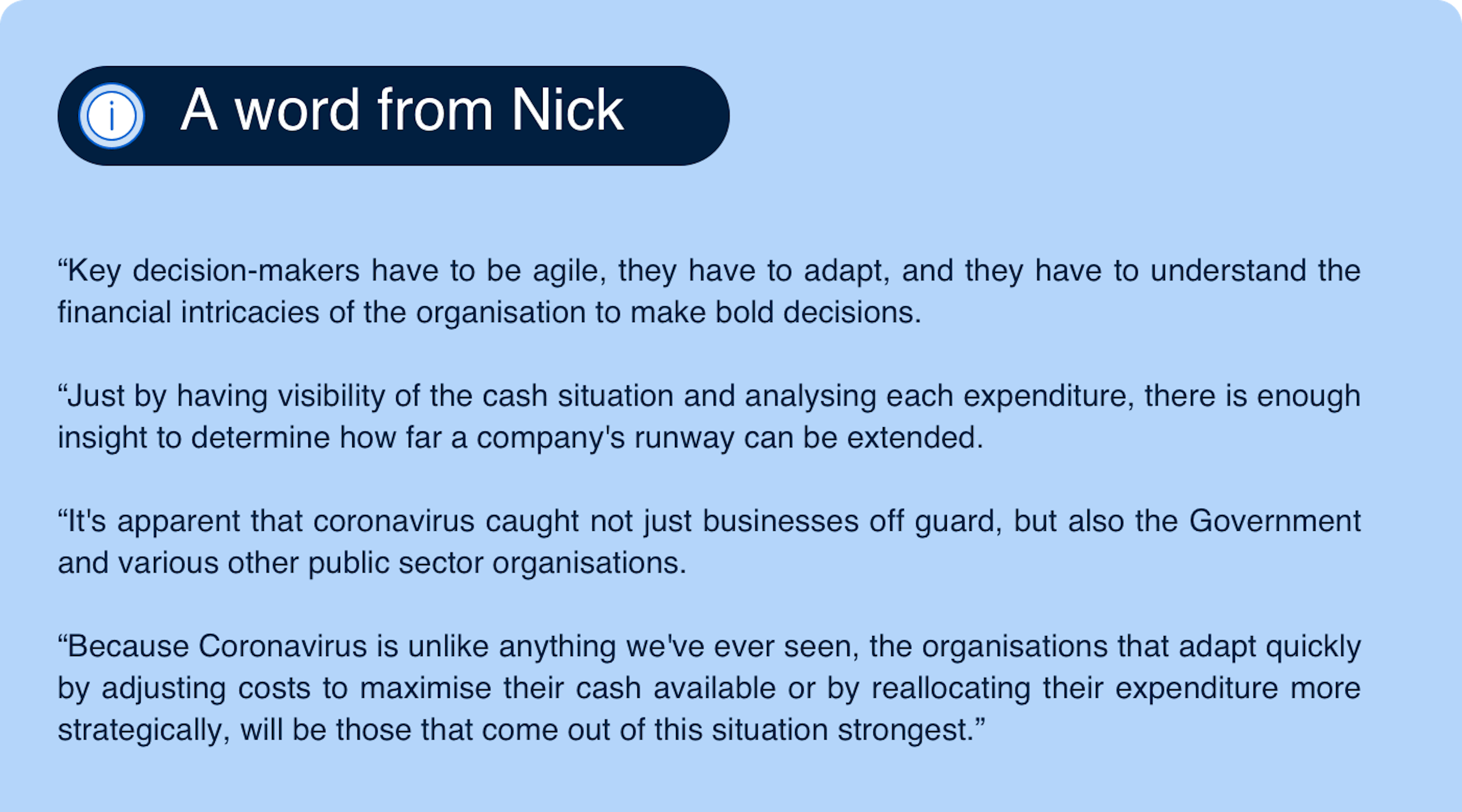 If you would like to find out more about PayFit, or have any questions about the ways we may be able to support you with your payroll and HR processes, then don't hesitate to contact us today.
PayFit blog author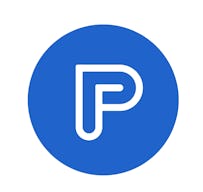 Tags