Last updated on
At PayFit, we like to stay on top of things! This is why we've updated our app in accordance with changes in legislation implemented by the Government.
The PayFit app is a cloud-based software that is built using our own coding language. This means that any changes in legislation that affect payroll can be updated in the app within just a couple of hours.
In light of coronavirus and the schemes and changes in legislation put in place by the Government, we've been able to ensure that our app is up-to-date and compliant for all users during these challenging and unprecedented times.
Statutory Sick Pay (SSP)
In March, the Government passed an emergency COVID-19 Bill in order to help reduce the spread of coronavirus.
Under the new Bill, employees are entitled to claim SSP from their first day off work for all coronavirus-related absences, including:
Individuals who are unable to work because they have been advised to self-isolate.
People caring for those within the same household who display symptoms of coronavirus and have been told to self-isolate.
The COVID-19 Bill also states that employers with fewer than 250 employees on the date of February 28th, 2020 will be able to claim 100% rebate on coronavirus-related SSP for up to two weeks.
The terms outlined in the COVID-19 Bill are a temporary measure and are due to expire on November 12th, 2020.
Find out more about Statutory Sick Pay.
Coronavirus: Statutory Sick Pay
The Government has brought in emergency legislation relating to Statutory Sick Pay to try and stop the spread of coronavirus.
PayFit, Statutory Sick Pay & coronavirus-related leave
PayFit users can now enter coronavirus-related leave on the app to record sickness or self-isolation absences and receive correct statutory pay in alignment with the latest legislation announced by the Government on March 13th.
What can the PayFit app do?
✅ The app applies additional SSP from day one of leave to all eligible employees
✅ The app handles automatic rebalancing if the sick leave is inputted in a later month
✅ The admin can access an overview report of the impact of the virus on the company and see how much SSP they can reclaim from HMRC
✅ Employees can input the leave directly from the app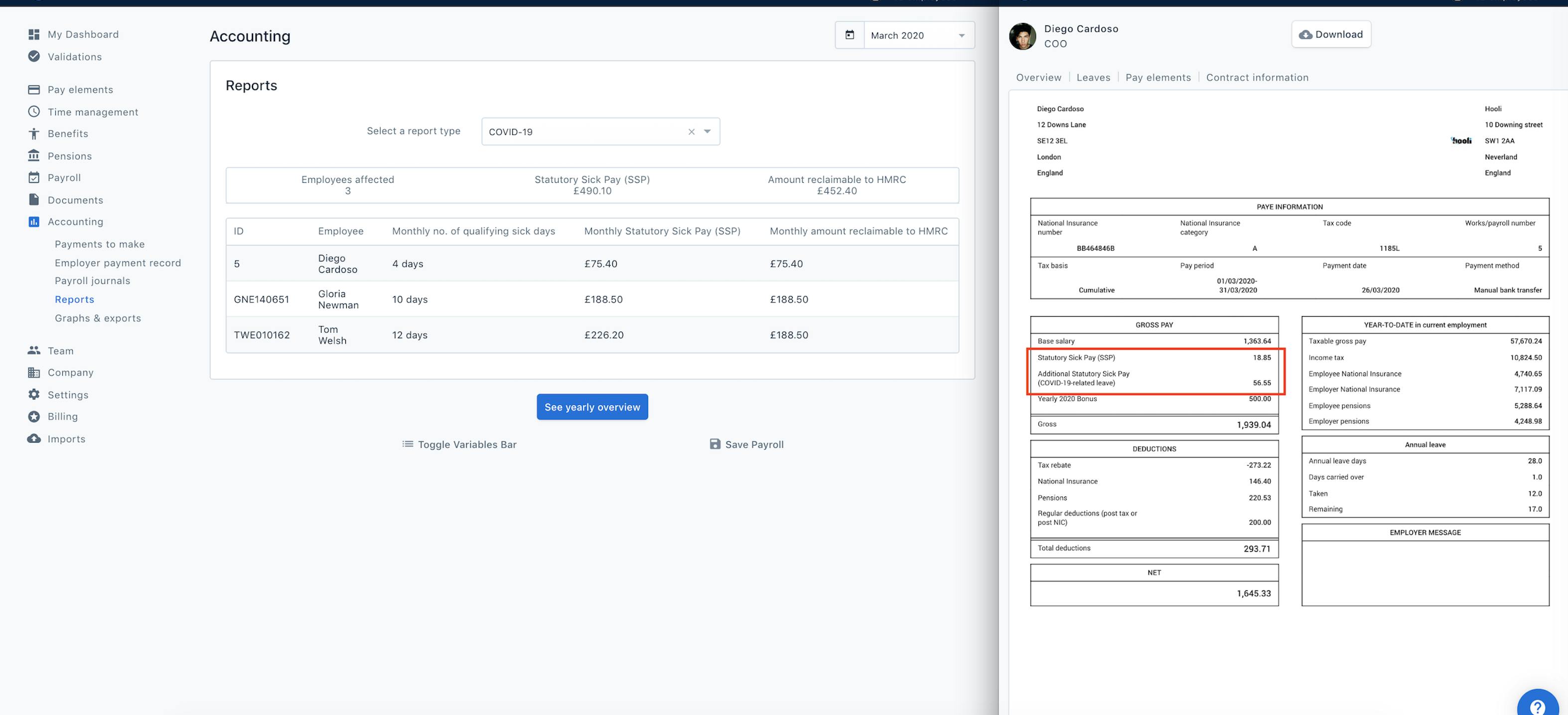 PayFit app dashboard.
Employee furloughs
Economic uncertainty fuelled by the spread of coronavirus has led to many employers having to make difficult decisions regarding the future of certain people within their organisations.
In a time of crisis, such as the one we're experiencing now, employers must choose between one of two options; laying off employees or making them redundant.
However, the Government's Coronavirus Job Retention Scheme, announced by Chancellor, Rishi Sunak, has been designed to support employers and minimise the number of job losses.
The Scheme has been designed to support employers whose operations have been severely impacted by the coronavirus crisis. Under the Scheme, employers will be able to keep employees on the payroll and keep their contract of employment in place for a period of at least eight months, backdated to March 1st, 2020.
Employers will be able to claim up to 80% of furloughed employees' usual monthly wage costs, up to the value of £2,500 per month, as well as Employer National Insurance contributions (NICs) and minimum automatic enrolment employer pension contributions on the wage.
Claims will be able to be made from April 20th and the service will be a self-serve portal that will be equipped with guidance for employers on how to make a claim.
PayFit & employee furloughs
We've updated our app to help customers with any employee furloughs they may choose to implement within their organisation. There is also advice and support regarding what can and cannot be done within the app.
The furlough calculation is done automatically within the app; however, it can be amended by adding or subtracting bonuses or overwriting the average pay. The reclaimable employer contributions are also automatically calculated for NICs and pensions.
We've also updated the app to allow for part-time furloughs from July. This will mean that employers can now allow their employees to return to work on a part-time basis and still claim for the regular hours that an employee does not work.
Interested in finding out more about part-time furloughs?
Click here to read our articles on the latest updates to the Coronavirus Job Retention Scheme.
Annual leave can be added during a period of furloughed leave, meaning employees would get paid the same for annual leave, but the reclaimable amount would remain the same as if the furloughed leave was ongoing.
Finally, the Report page on the app displays all pay related to furloughed leave, as well as the reclaimable amounts.
What can the PayFit app do?
✅ Provide support on furloughing
✅ Automatically calculate the cost of furlough and the reclaimable employer contributions for NICs and pensions
✅ Provides a report for all pay related to furloughed leave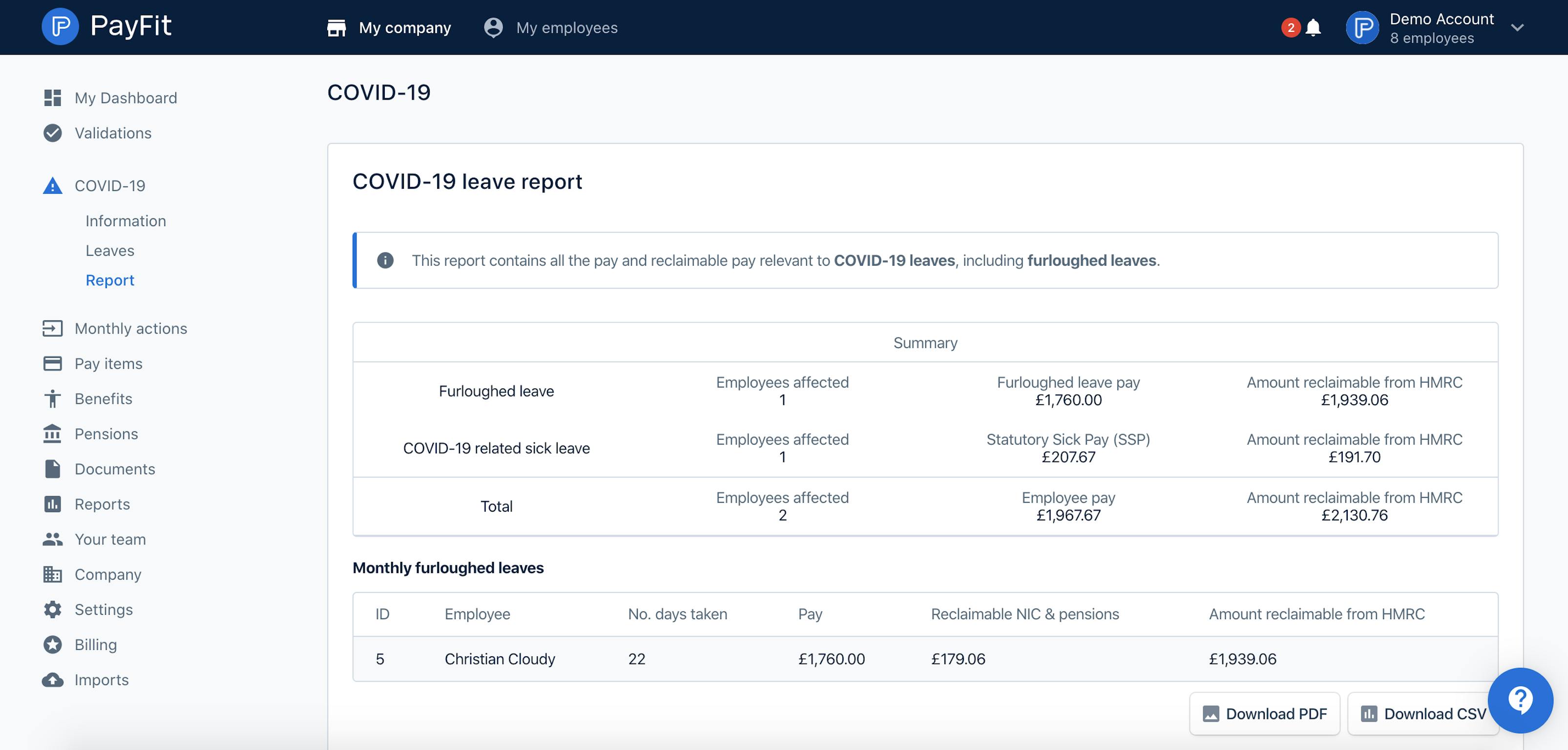 PayFit & COVID-19.
Interested in finding out more about PayFit? Book a demo with one of our product specialists today!