🕵️ Discovering PayFit
Before joining PayFit, I was a CFO on a part-time basis. I quickly saw the difference between the customers who used PayFit and those that didn't.
Companies who relied on old-fashioned and outdated payroll systems spent a significant amount of time administering their payroll each month. Furthermore, they would often make mistakes which would lead to endless back and forth emails with the affected employees.
On the other hand, customers who were using PayFit were able to run payroll smoothly each month all while using up fewer resources.
📈 Managing finance in a context of hyper-growth
After following the PayFit journey for a number of months, I was fortunate enough to land a job here in 2018.
PayFit was - and still is - growing rapidly in terms of turnover, number of customers, employees, subsidiaries abroad and capital.
As the CFO, I must guarantee and maintain a high level of quality financial information, constantly monitor figures and give them meaning through reports and forecasts that will allow us to make more informed decisions.
The main challenge for the finance department is to meet these objectives while maintaining a high level of flexibility and meet the growing needs of our teams (costs analysis, the evolution of invoicing processes, internationalisation, etc.).
⏱ On a monthly basis, we manage payroll in just a few hours despite the increasing number of payslips
Today, in collaboration with the people ops department, I run payroll for our 500+ employees across our five entities (France, Germany, Spain, Italy and the UK) in less than half a day.
This time saving allows us to focus on the higher value-added aspects of our business such as reporting, financial projections and the accuracy of our business plan.
PayFit is constantly evolving and regularly offers new features that make it possible to be more efficient, despite the increasing number of employees.
The import module for example, that allows for the update payroll variables of several employees in just a few clicks) has been a real revelation for me. Now I add all the bonuses of our entire sales team in just two clicks.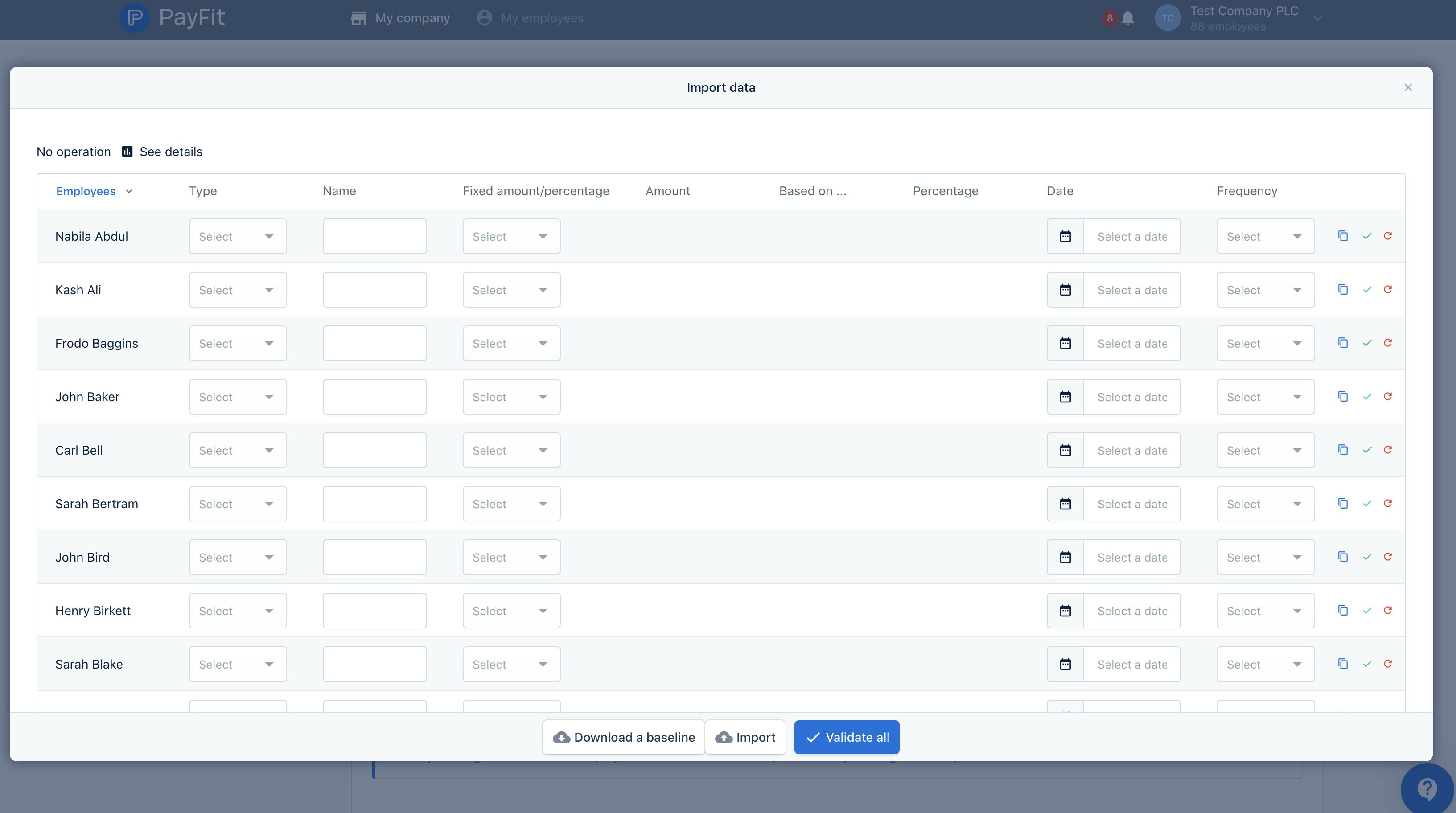 Import module.