Last updated on
Francis is PayFit's Chief Financial Officer. While PayFit is a payroll software that helps reduce the time spent administering payroll, Francis also uses it for a variety of functions including, monitoring company growth, forecasting and data analysis.
"As PayFit's CFO, I am often asked what the added value of PayFit is and how I get the most value from it in my day-to-day."
🕵️ Discovering PayFit
Before joining PayFit, I was a CFO on a part-time basis. I quickly saw the difference between the customers who used PayFit and those that didn't.
Companies who relied on old-fashioned and outdated payroll systems spent a significant amount of time administering their payroll each month. Furthermore, they would often make mistakes which would lead to endless back and forth emails with the affected employees.
On the other hand, customers who were using PayFit were able to run payroll smoothly each month all while using up fewer resources.
📈 Managing finance in a context of hyper-growth
After following the PayFit journey for a number of months, I was fortunate enough to land a job here in 2018.
PayFit was - and still is - growing rapidly in terms of turnover, number of customers, employees, subsidiaries abroad and capital.
As the CFO, I must guarantee and maintain a high level of quality financial information, constantly monitor figures and give them meaning through reports and forecasts that will allow us to make more informed decisions.
The main challenge for the finance department is to meet these objectives while maintaining a high level of flexibility and meet the growing needs of our teams (costs analysis, the evolution of invoicing processes, internationalisation, etc.).
⏱ On a monthly basis, we manage payroll in just a few hours despite the increasing number of payslips
Today, in collaboration with the people ops department, I run payroll for our 500+ employees across our five entities (France, Germany, Spain, Italy and the UK) in less than half a day.
This time saving allows us to focus on the higher value-added aspects of our business such as reporting, financial projections and the accuracy of our business plan.
PayFit is constantly evolving and regularly offers new features that make it possible to be more efficient, despite the increasing number of employees.
The import module for example, that allows for the update payroll variables of several employees in just a few clicks) has been a real revelation for me. Now I add all the bonuses of our entire sales team in just two clicks.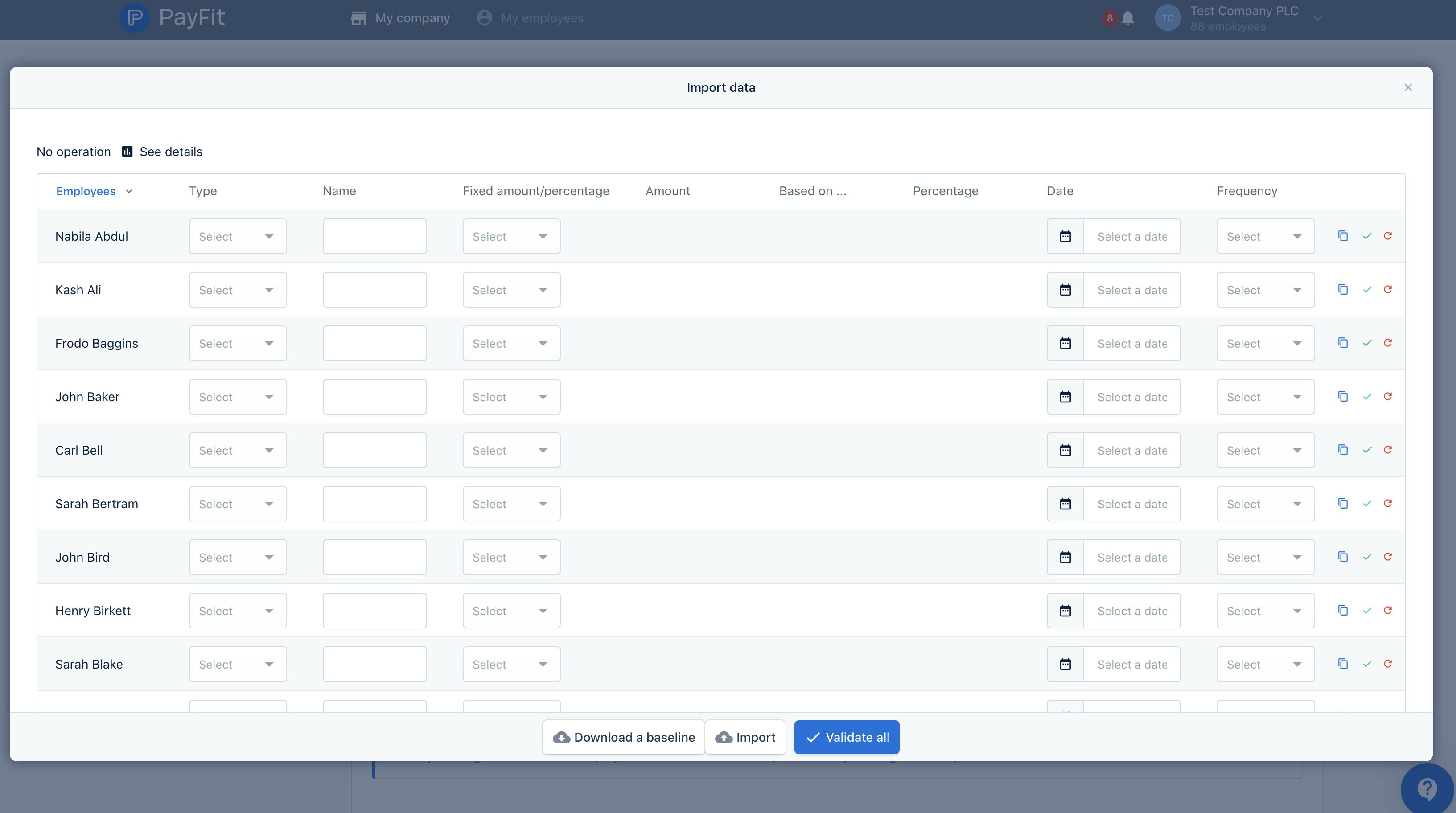 Import module.
This import module allows you to bulk update pay variables such as bonuses for all employees (or for a specific team) at once in just a few clicks.
📊 Beyond payroll management: reporting, business plans and payroll projects
Payroll management is far from being the only way I use PayFit. I use the financial data from PayFit every day to update all my financial tools, including reporting and formulating the overall business plan.
For example, I have created an internal reporting system that allows us to monitor the company's financial performance month on month. In this context of rapid growth, monitoring our wage bill with precision is crucial.
Every month, PayFit automatically generates exports including key information such as payroll, costs and expenses. Analytical axes - which group expenses by categories such as R&D, marketing, etc. - allow us to enter into particularly fine levels of analysis.
This monitoring system is directly linked to our business plan and the projection of our workforce allows me to calculate our payroll very accurately over a sustained period of time.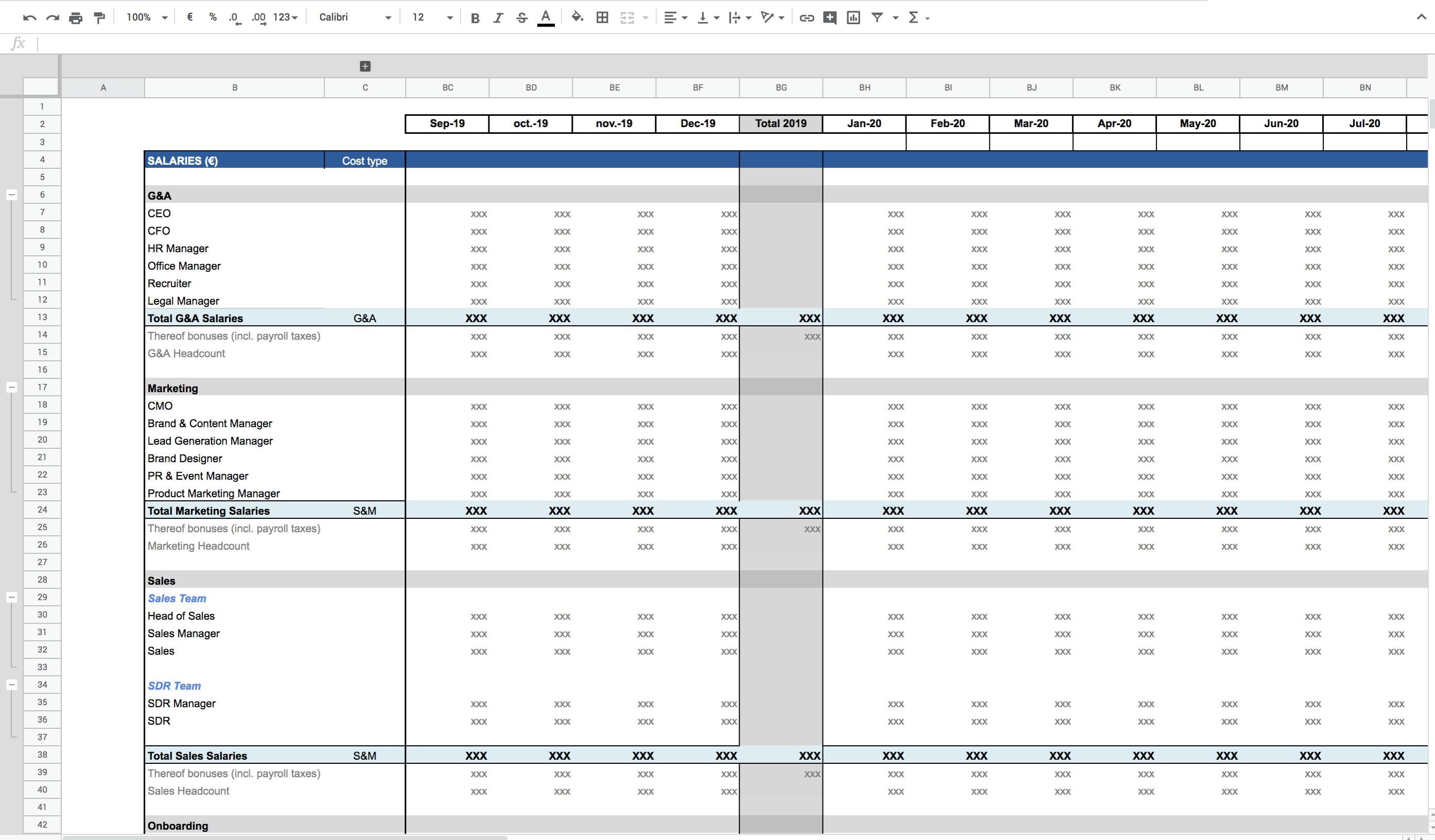 How PayFit uses PayFit.
Payroll projection file based on PayFit data
📚 Strong interactions with our chartered accountant
I am often asked if PayFit has completely replaced the accountant; and the answer to this question is no.
Today our accounting is outsourced to a chartered accountant. Every month, our accountant uses the accounting journals generated by PayFit to include payroll and other variables into our accounting. These payroll journals are easy to export whenever required.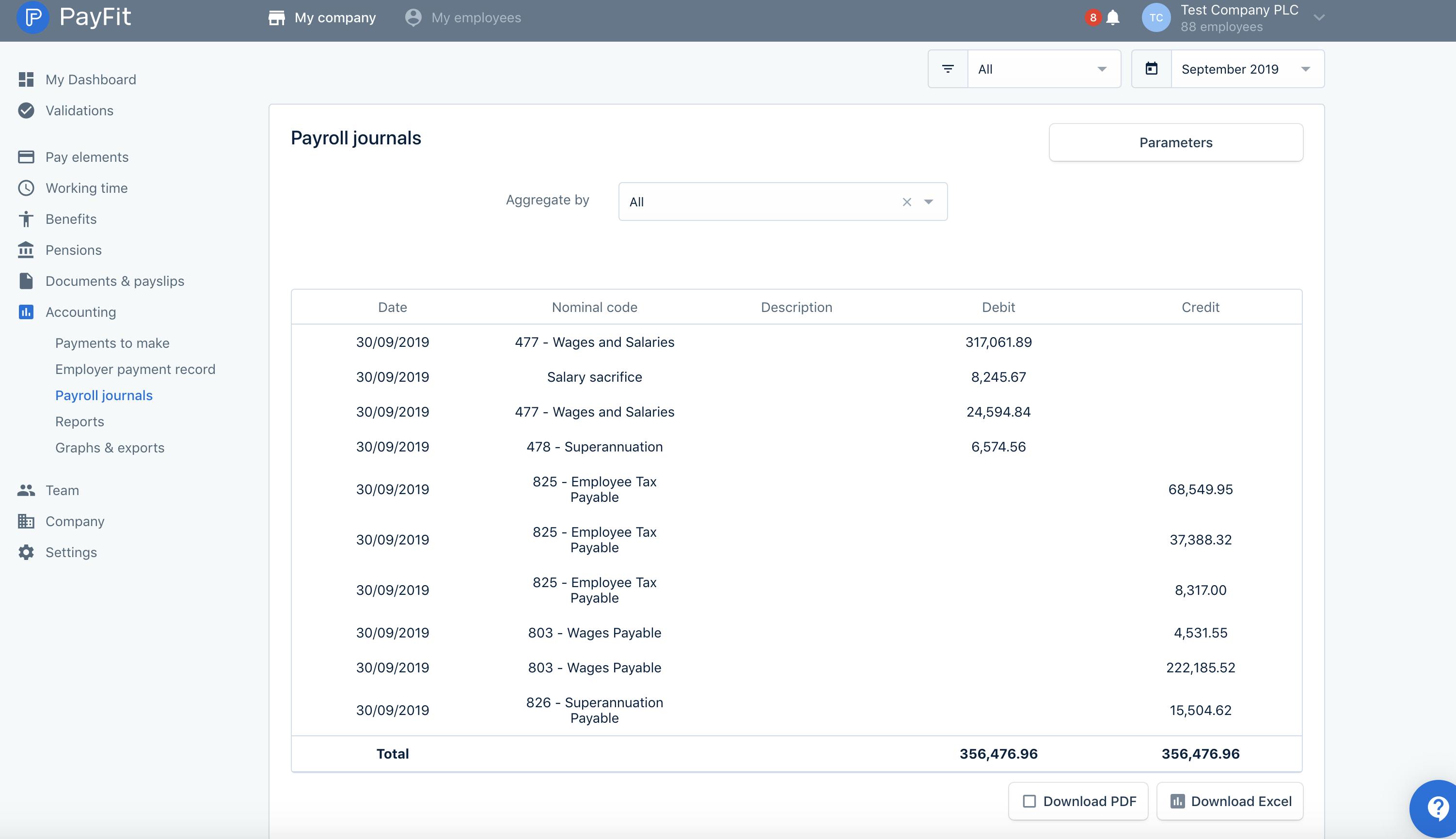 Payroll journals
In the accounting section of PayFit, you can see an overview of all employer payments and generate reports and accounting journals in a few clicks. This means that you can provide your accountant with or upload to your accounting software.
💰 Payroll software that takes perks into account
Another perk of having very flexible software with its own coding language is the ability to incorporate staff benefits. We wanted to offer PayFiters meal vouchers. So, we just built this feature into the app.
Vouchers on PayFit.
You are now able to add many types of vouchers to the PayFit app! This includes meal or cash vouchers to give to your employees as perks!
💙 My favourite functions within the PayFit app
On the payroll side, bulk imports are a real time-saver!
On the reporting side, I find the export of accounting journals super useful.
On the budgeting side, custom graphs and reports are very helpful too. I can choose the different variables I want to compare (bonuses, pension contributions, costs, etc.) per team, per geographical regions, per gender at any given time period. This data can then be exported in a matter of seconds!
🚀 What about the future?
In my opinion, there is no other option than digitalising the finance function. Today, we can do powerful analysis with PayFit; however, in an ideal world, we would integrate more tools into one single platform, such as business intelligence or accounting tools.
Want to find out more about how PayFit can help support your company's payroll processes? Get in touch with one of our product specialists today!
PayFit blog author