Last updated on
Back in July 2019, we opened our London office. Twelve months on, we thought it would be a good time to reflect on the journey so far. 
Over the last year, we've had some fantastic customers join us as we continue our quest to make payroll simpler and more efficient for SMEs all across the UK. 
Thanks to continuous feedback and a super motivated product team, PayFit's payroll and HR software has seen incredible developments since its UK launch! 
Here is a quick recap of some of the highlights and the changes we've made to help make our software what it is today.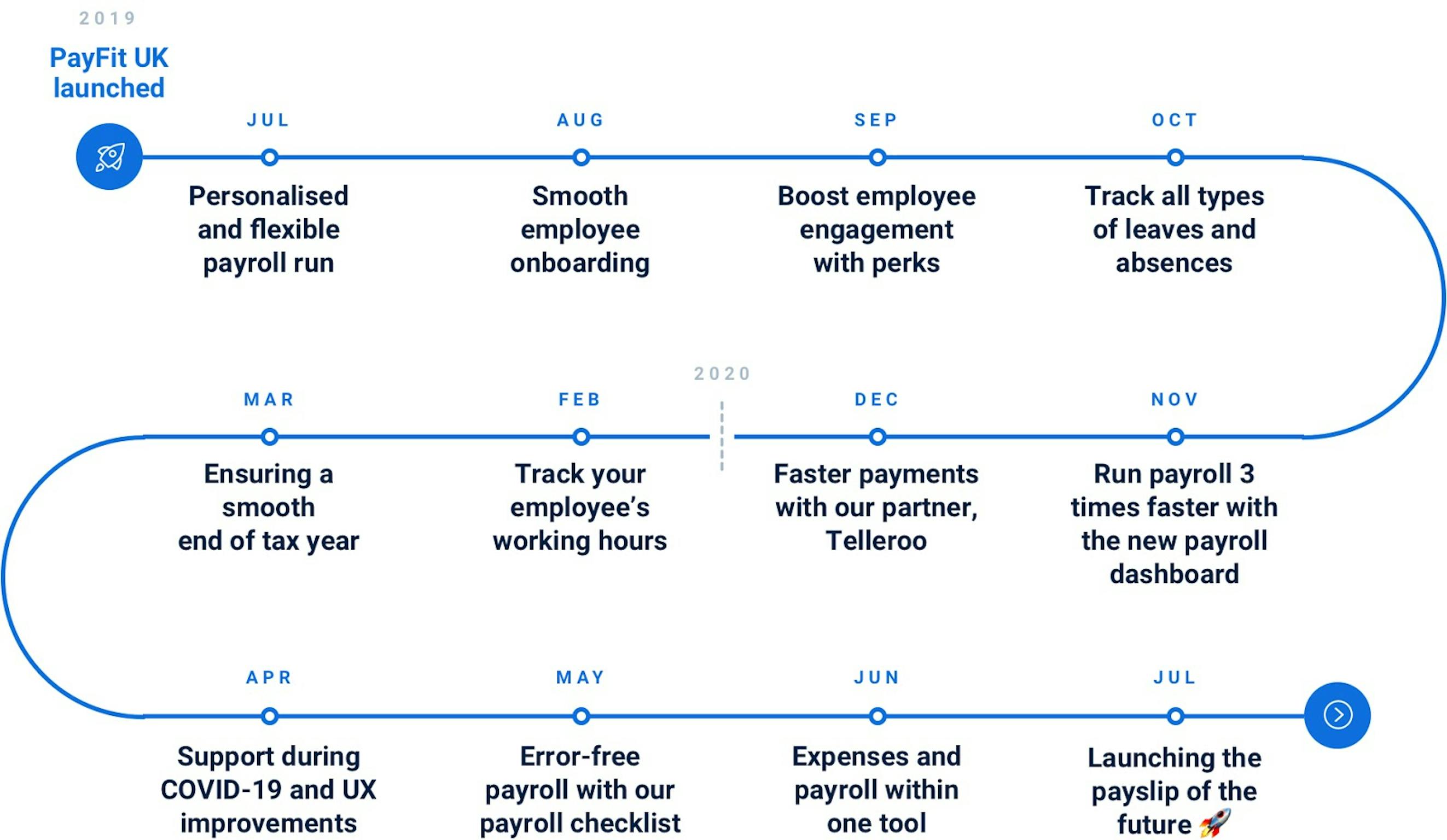 One year of product development at PayFit.
Flexible and personalised payroll run [July 2019]
Our customers are a diligent bunch - you know, the sort you have to be when running payroll. They're also the type who want to get ahead of things and organise their payroll well in advance. 
Nobody likes to miss out on annual leave, or work ridiculously long hours in the last week of each month, do they? 
That's why our app allows admins to run their payroll whenever they want from the 20th of each month. 
This change was made as we wanted to provide customers with greater flexibility as to when they can run their payroll and allow them to focus their attention on higher-value tasks. 
Smooth employee onboarding [August 2019]
We improved our onboarding feature so that adding a new starter is much quicker and more efficient. 
Thanks to this update, the app allows admins to send out questionnaires, collect all the important details and build customised checklists to get new employees started in the best possible conditions. 
Some of our fastest-growing customers have been adding up to 20 new starters a week. Naturally, we're extremely pleased that this feature has made the onboarding process much smoother!
Boost employee engagement with perks [September 2019]
We know how critical employee engagement is, and we're proud to offer great flexibility for employers who are looking to provide a wide range of benefits to their employees. 
On PayFit, admins can manage benefits such as credit cards or meal vouchers, company cars and fuel and even gym memberships.
Once these benefits have been recorded on the app, they are then reflected on the P11Ds at the end of the tax year. The P11Ds are generated automatically to be sent to employees directly. 
Track all types of leaves and absences [October 2019]
We're always looking at ways of offering more automation to our customers when running payroll and we want the process to be as flexible and adaptable as possible. 
Back in October, we added more types of leave on the app including sick leaves, time off in lieu, keep in touch (KIT) days, compassionate leave as well as occupational maternity and paternity leave. 
Occupational leaves are always a hot topic and we at PayFit appreciate that employers like to provide their employees with leave that goes beyond the statutory requirements. This is why we added a feature that allows admins to personalise their occupational leave policy within the app. 
The new additions mean that admins will no longer have to spend hours doing manual calculations as these will now all be done automatically within the app. 
We also released a Maternity Monthly Payment Simulator to provide more clarity on calculations. 
Run payroll three times faster with our payroll dashboard [November 2019]
Probably our customers' favourite feature. PayFit's payroll dashboard allows app admins to run payroll in just three clicks!
We have always been very conscious of the fact that running payroll can be a time-consuming task. It is for this reason that we have always tried to find ways to speed up and simplify the process.
However, sometimes doing things quickly can lead to errors, and we wanted to ensure that admins had all the tools and data they needed at hand to finalise their payroll in a stress- and error-free manner.
Our payroll dashboard was designed to help customers ensure that there are no errors before finalising payroll, provide better visibility on company totals and month-on-month changes, as well as access or amend employee data in just one click. 
Quicker payments [December 2019]
Christmas can be a challenging period for both employers and employees. With shopping lists left right and centre, Christmas parties every night of the week and then the weekend jolly up with mates, it's fair to say that December can be an expensive month. 
So, the LAST thing you want to experience is a looooonnnnnggggg wait between administering your payroll and your employees receiving the money in their accounts. 
This is why we chose to partner with Telleroo to deliver our clients with the super speediest payment process around. 
In fact, it's so quick, that the time it takes to transfer money from your business' account to arriving in your employees' bank accounts can be as little as 30, yes THIRTY, seconds!   
Forget manual payments or BACS files uploads, choose the fast payments feature and get your employees paid instantaneously.
Track your employees working hours [February 2020]
We added a time tracking feature which allows app admins to track and record working hours in a much simpler way. 
Hours can vary across several days - e.g. weekdays and weekends, or even day shift and night shifts. Therefore, we understood that it was important to offer PayFit customers the option to record different hourly rates within the app. 
As with all updates on PayFit, this is fed directly into your payroll.
Ensuring a smooth end to the tax year [March 2020]
March can be a testing month for payroll administrators. With the end of the tax year rapidly approaching, payrollers can often find themselves bogged down in small but time-consuming tasks. 
Our product team identified that one way the app could help was by ensuring that all P11 and P11D (b) submissions could be automated within the app. 
Another great benefit of having cloud-based payroll software is that we were able to update it to meet the changes in legislation and ensure 100% compliance, all without requiring a software update. 
Support during COVID-19 [April 2020]
In late March and early April, coronavirus arrived on these shores and disrupted our way of life as we knew it. 
The pandemic also brought about fairly significant changes in payroll administration, including amendments to Statutory Sick Pay (SSP) and the introduction of the furlough scheme. 
This period was extremely testing for many businesses for a variety of reasons, and we understood that payroll professionals faced an uphill battle to ensure that their April run was compliant with these government changes. 
The app was updated to allow admins to automatically calculate any coronavirus-related absences in line with the new SSP regulations, as well as calculate the cost of furloughing employees. 
We also added a COVID-19 report function within the app to help admins keep on top of the latest developments within their organisation. 
Finally, we made improvements to the Documents section within the app to help optimise the overall user experience. The goal of this update was to improve the search and navigation features to allow app administrators to find files they were searching for in a more efficient manner.
Error-free payroll with our in-app payroll checklist [May 2020]
Payroll is never easy, and its fiddly nature can mean that errors are relatively common. 
So, we decided that it would be a good idea to provide admins with a "Monthly Actions" checklist to help reduce the risk of errors occurring and ensure that their payroll run went as smoothly as possible. 
Expenses and payroll integrated into one tool [June 2020]
Expenses are often a massive problem in businesses, so much so that it is estimated that expense fraud costs private companies in the UK about £140 billion each year. That's an eye-watering sum that can leave you rubbing your eyes in disbelief. 
Another thing that can make you rub your eyes (this time in boredom) is monotonous expense administration. 
Not only does the PayFit app have robust optical character recognition (OCR) technology that reads text automatically when uploading a receipt, but it also allows app administrators to define the company's expense policy clearly. 
The app has also been updated to include a better validation workflow that can help app administrators to reduce the time they spend administering expenses significantly. 
Once an expense has been approved, it gets automatically added onto the employee's payslip to process the refund.
This July, we're launching the payslip of the future 🚀
We've come full circle and are now back in July - but this time it's 2020! 
To celebrate our one year anniversary, we are proud to be releasing the payslip of the future.
Why are we doing it? Because no one has done it before, and we believe the user experience stretches to the monthly payslip. 
We want both employers and their employees to feel proud of their payslip, and we want it to represent more than just proof of payment. 
Stay tuned to find out more...