Last updated on
At PayFit, we understand the value that integrations can bring to our customers. Over the last 12 months, we've been busy expanding our portfolio of software integrations in order for customers to further streamline their processes, eliminate repetitive tasks and save valuable time.
Integrating with the fast-growing HR platform, Personio was a natural next step.
The rise of HR tech 
Since the pandemic, investments in European HR tech have risen. With most businesses having to adjust to remote working, hiring, and onboarding, streamlining processes has never been in more demand. 2021, in particular, has seen the highest investments ever made in the sector.
Ten years ago, we wouldn't see VCs investing in HR companies. The HR function was overlooked and often outsourced. However, times have changed, and HR startups are shaking up the market to offer a user-friendly alternative to legacy HR software and address the needs of SMEs.
Whatever the size of your business, HR plays an important role in improving employees' wellbeing, performance and retention, as well as ensuring that your company complies with the relevant legislation. 
However, for HR teams to work efficiently on all fronts and become strategic business partners, integrated tools and processes are necessary.
What are the benefits of integrating HR and payroll?
When systems are integrated, they can talk to each other without the need for double data entry. Instead of entering the same information on two or more different systems, it can seamlessly transfer the data without user intervention. Needless to say, removing such manual tasks can save HR teams a lot of time and reduce manual error.

Another benefit of sharing data between HR and payroll is that businesses have all the data in one place in order for them to report on and understand where they stand in terms of diversity and inclusion or gender pay gap.
The last year has highlighted the strategic value of efficient HR and payroll processes and has demonstrated the need for digitalisation and optimisation. Partnering with the fastest-growing European HR software was the natural next step for PayFit as UK businesses want more automation and integrated software.
PayFit payroll software now integrates with Personio
We at PayFit, have been working on our integration with Personio for the last few months and are excited to announce this new partnership. 
PayFit and Personio have a lot in common. Both companies were founded in 2015 and have notable investors such as Accel. Both are now scale-ups with a shared vision to digitise and streamline HR processes in order for SMEs to focus on what matters most to the business: its people.
With this integration, Personio customers will be able to sync their employees' personal details, contract details and terminations, salary changes, annual leave and sick leave, as well as manage new starters and leavers.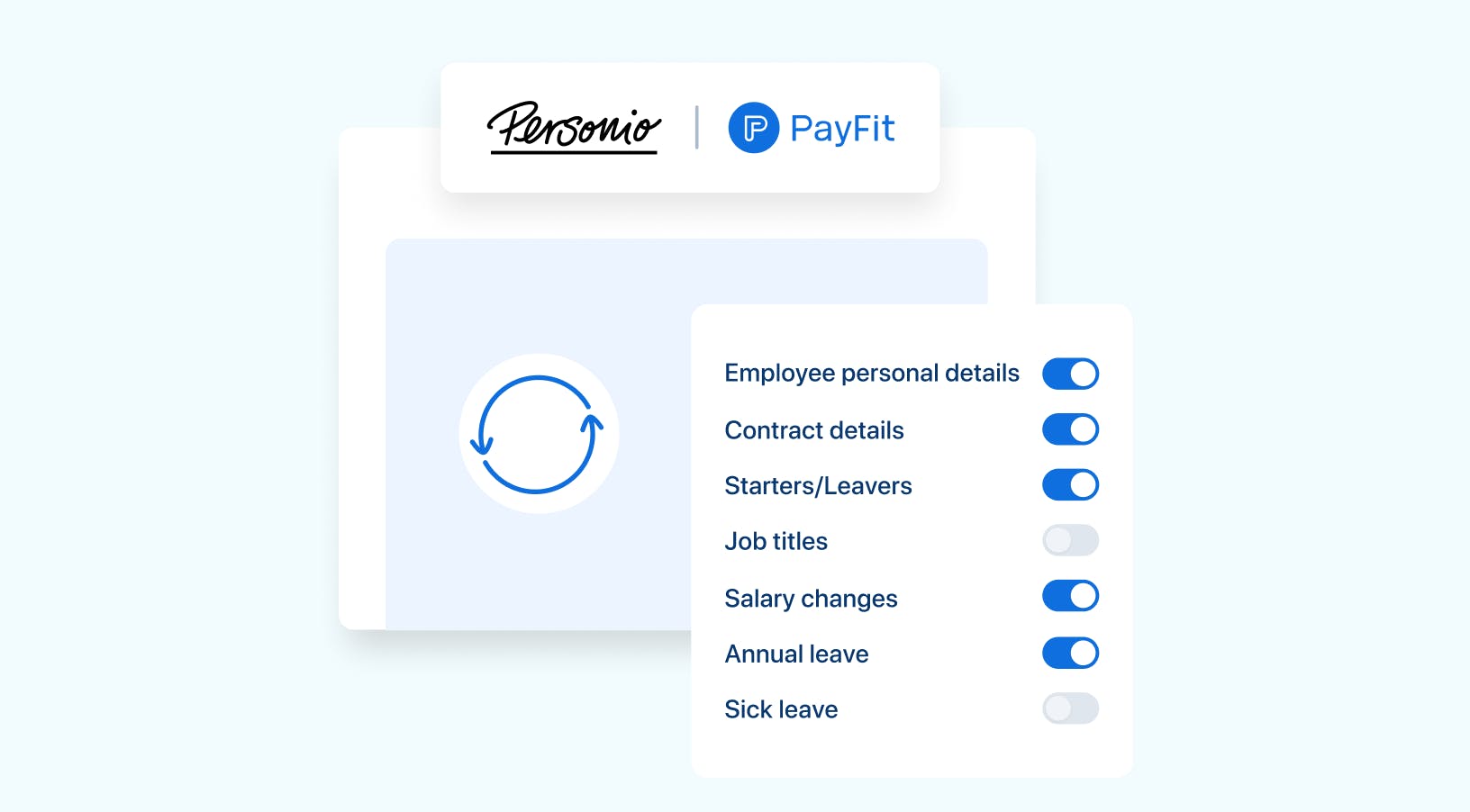 It's especially beneficial for fast-growing SMEs to use software like PayFit and Personio, as they're always looking to add new talent to their business and improve the onboarding experience.
Salary changes and leave bookings are also important data points to sync, given their impact on payroll. Providing this information accurately and on time to the company's payroll admin is crucial, and the integration makes the process a lot smoother.
Having these two software integrated eliminates manual tasks that are often stressful at the end of the month, time-consuming and prone to errors. Time saved can then be reinvested in what matters most to the business: its people.
Our goal is to unlock the productive potential of small and medium-sized businesses by helping HR teams to go beyond HR. In order to do so, SMEs need software in place that enables seamless processes across tools and teams to remove wasted time, delays and missed opportunities. We're excited to be partnering with PayFit in order to streamline HR and payroll processes and offer our customers automated workflows.
Hugues Vincent, Head of Product Partnerships at Personio
Interested in finding out more about PayFit's integration with Personio? Why not book a demo with one of our product experts today?