Last updated on
The Government has passed an emergency COVID-19 Bill in order to help reduce the spread of coronavirus. Under the new Bill, employees will be able to claim Statutory Sick Pay from their first day off work for all coronavirus-related absences.
The prime minister, Boris Johnson, announced that the new Bill, named COVID-19, was in response to concerns that people who may be showing symptoms of the virus felt that they had little choice but to go to work, and consequently risk spreading the virus further.
Normally under the Statutory Sick Pay Act, employees are only eligible for Statutory Sick Pay (SSP) from their fourth day off work; however, the new emergency legislation has been brought in to try to minimise the spread of, and contain, coronavirus.
COVID-19 Bill, self-isolation & Statutory Sick Pay
Under the new COVID-19 Bill, employees will be able to claim SSP from their first day of sickness. The new Bill covers the following:
Individuals who are unable to work because they have been advised to self-isolate
People caring for those within the same household who display symptoms of coronavirus and have been told to self-isolate.
The Government has also passed emergency legislation via a statutory instrument to amend the Statutory Sick Pay Regulations. The Regulation provides categories of people to be treated as incapable of work for the purposes of claiming SSP.
These Regulations declare that a person who is isolating from others in accordance with advice on coronavirus is deemed to be incapable of work.
The COVID-19 Bill allows for employers with fewer than 250 employees on the date of the 28th of February, 2020 to claim a 100% rebate on coronavirus-related SSP for up to two weeks. This is a temporary measure and is set to expire on the 12th of November later this year.
The Government has encouraged employers to use their discretion and not ask for a fit or isolation note for coronavirus-related absences; however, if they do require a fit note, employees are able to receive one from NHS 111.
For any coronavirus-related absences of more than seven days, employees can obtain a note through an online service. They can be accessed through the NHS website and NHS 111 online.
To obtain a note, all that is required is to answer a few questions. Once completed, the isolation note is emailed to the user.
For those who don't have an email address, the note can be sent to a family member or friend, or directly to the employer. The service can also be used to generate an isolation note on behalf of someone else.
How to claim coronavirus SSP
The online service to claim SSP was released on the 26th of May.
To use the service, employers will require their Government Gateway user ID they received when they registered for PAYE Online. If not already registered, they will need to enrol for the PAYE Online service.
If an employer uses an authorised PAYE agent, then they can ask their agent to claim on their behalf.
Employers who have been unable to claim online should have received a letter informing of them an alternative way to claim. If a letter has not been received, employers are advised to contact HMRC.
What information is needed to claim SSP?
👉 An employer PAYE scheme reference number
👉 Contact name and phone number of someone HMRC can contact
👉 UK bank or building society details (bank account details must be where a Bacs payment can be accepted
👉 The total amount of coronavirus SSP that an employer has paid to employees for the claim period
👉 The number of employees an employer is claiming for
👉 The start and end date of the claim period
Employers can claim for multiple pay period and employees at the same time. The start date of the claim is the start date of the earlier pay period that is being claimed for and the end date is the end date of the most recent pay period that is being claimed for.
Record keeping
Employers must keep records of SSP that have been paid and that they want to claim back from HMRC, just in case there is ever a dispute.
The records, which must be kept for a minimum of three years after the payment is received, can be stored in any way an employer chooses.
Which records must be kept?
👉 The dates the employee was off sick
👉 Which of those dates were qualifying days
👉 The reason they said they were off work - if they had symptoms, someone they lived with had symptoms or they were shielding
👉 The employee's National Insurance number
Post-holiday isolation
Employees who are required to isolate after returning from a country not listed on the UK's "no self-isolation requirement" list, and who are unable to work from home, will not be entitled to receive Statutory Sick Pay.
An employer can request that the employee take annual leave to cover the quarantine period or can place them on unpaid leave. In this situation, employers can choose to pay SSP to affected employees but are under no requirement to do so. SSP related to an employee self-isolating after returning from holiday should not be reclaimed via the HMRC's online service for reclaimed COVID-19 related SSP.
Who is eligible for Statutory Sick Pay for all other sicknesses?
For all other non-coronavirus-related illnesses, the regular SSP rules remain in place.
To receive SSP, someone has to be classed as an official employee and earn an average of £118 per week. Zero-hour workers are also entitled to SSP, providing that they meet the qualifying criteria.
An employee must inform their employer that they are sick before their deadline - or within seven days of falling ill.
Employees who have already received the maximum SSP amount (28 weeks) will not be eligible, nor will those who are already receiving Statutory Maternity Pay (SMP).
If someone is not eligible for SSP, then they may be able to apply for Universal Credit or Employment and Support Allowance (ESA). Employers can use an SSP1 form to support employees with their application.
The PayFit app
At PayFit, we pride ourselves on the fact that we can make quick adjustments to government regulations. As our software is cloud-based and built using our own coding language, it only ever takes a couple of hours for new regulations to become active on the app.
As a result, all legislation related to coronavirus-related absences has been updated in the PayFit app, meaning that there's no need to do any manual calculations.
The app has also been updated to include an "SSP report". This means that app administrators are able to see how much they are able to reclaim from HMRC.
If you are interested in finding out about how PayFit can help support you with your payroll and HR processes, then why not book a demo with one of our product specialists today?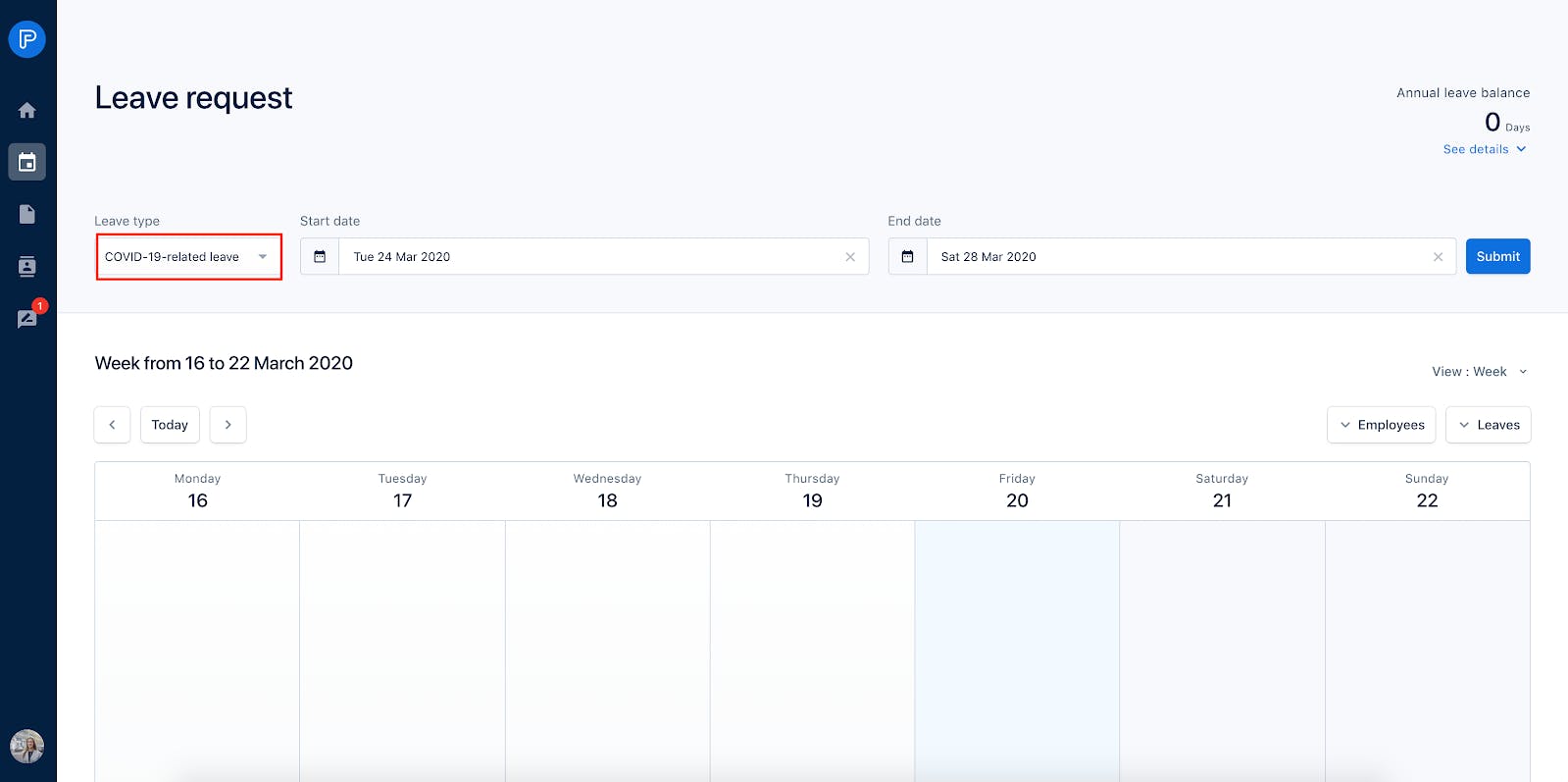 Coronavirus and Statutory Sick Pay.